Hi Mead Family,
We are off to a great second semester. Here is information from Mr. Sagel about our annual Schools on the Move Challenge, and you'll also find dates and times from Mrs. Lafever about our Book Fair.
We look forward to seeing you soon during conferences and are thankful for your partnership.
Schools on the Move 5210 Challenge, February 1st – 28th
What does 5210 stand for?
5 Fruits and Vegetables
2 Hours or Less of Recreational Screen Time
1 Hour of Physical Activity
0 Sugary Drinks
Mead Elementary students will receive two Healthy Kids Calendars. One calendar is for the student and the other is for a family member. Those who earn 60 or more health related check marks out of a possible 112 will receive a FREE t-shirt. Additional calendars can be found at healthykidsclub.org or scan the QR Code below. Mead Elementary will compete with schools from Loveland, Greeley, Johnstown, and Berthoud to earn prize money for PE and Movement. Mead Elementary has finished in the top five several times, but has never won this challenge. In order to win we need to have the highest percentage of completed and returned calendars by March 4th. Students are encouraged to wear previous 5210 challenge t-shirts each Wednesday in February to increase spirit and motivation. The Mead Elementary class with the highest​ percentage of student participation will receive a special PE/Movement time and healthy snac​k.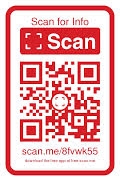 Usborne Book Fair will be open after school
Tuesday, February 3rd – Wednesday, February 11th. See times below.
Hours are…
2/3/15 – Tuesday 3:00 until 7:30 pm*
2/4/15 – Wednesday 11:30 – 4:00 pm – Late Start day w/assembly
2/5/15 – Thursday 3:00 until 7:30 pm*
2/6/15 – Friday 2:00 – 4:00 pm
2/09/15 – Monday 3:00 – 4:00 pm
2/10/15 – Tuesday 3:00 until 4:00 pm
2/11/15 – Wednesday 3:00 until 7:30 pm*
Stop by the library to see the Usborne collection of affordable, high-quality books!
*Conference Nights